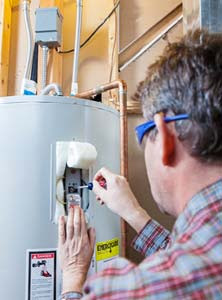 Are you having trouble with your water heater? The problem could just need a simple repair or it may be time to replace your water heater. Your water heater is one of the appliances that don't get much attention. Over time, the sediments build up within the lines and if you have a tank water heater, within the tank itself.
Sediments, rust, and corrosion are the main causes of water heater problems. Even if your water is perfectly pure, your water heater has a lifetime limit of service.
Water heater tanks are the prime cause of sediment and scale buildup in the tank and elsewhere down the wastewater drain lines. When sediments like limestone are heated up, they form a hard scale that sticks to everything.
If you were to look down in the bottom of your water heater tank, you're likely to find anywhere from an inch to several inches of deposits that have sunk down to the bottom of the tank. Over time, this builds up and can coat parts like your heating elements, causing them to fail. This sediment build up can also cause your dishes to feel chalky or dusty when removed from the dishwasher.
Why Customers Count On Us For Expert Service On Their Water Heaters
If your water heater can be repaired, we'll be glad to repair it for you and will always be honest with you about the problem. You'll never experience that type of problem with our professional Denver Co Plumbers at IPC Plumbing & Drain Cleaning LLC. You'll always get an honest evaluation of your plumbing repairs and replacements!
If you are looking for expert Water Heater Replacement & Installation in Denver Colorado, please call 303-319-4271 For details.